No, that's not a typo. Bzzing is what a Bzzagent does. BzzAgent is a word-of-mouth marketing company. Bzzagents are people who receive products or offers to try products and then review and bzz about those products. Bzzagents can earn rewards for their bzzing, but we are not paid to say nice things about products. In fact, we're expected to be honest.

If there is a fault I have (okay, one among many) it is brutal honesty. When I bzz about anything, whether I was introduced to it by BzzAgent or stumbled across it all on my lonesome, that bzz is my honest experience.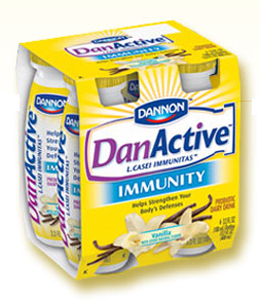 About a month ago I received the DanActive bzz kit which included several DanActive coupons, one for a free 4-pack, and a stack of cards containing contest pins for a current DanActive contest.

Danone (Dannon in the states) tells us that DanActive promotes a healthy immune system with its proprietary probiotic culture L. Casei Defensis(TM). Actually, I phrased that rather mildly. Danone tells us that DanActive "strengthens our bodies' natural defenses to harmful bacteria from our environment."

I've seen the commercials for ages. What did they make me think? Snake oil! They're selling some snake oil on the heels of a snake infestation!

Danone assumes that people don't know about healthy gut bacteria. Yes, our guts -- meaning our entire digestive tracts from top (mouth) to bottom (bottom ha!) -- contain a wealth of bacteria. Good bacteria and bad bacteria. It's best to have more good than bad. That's just common sense. Things can throw this balance off -- long term, high-dosage antibiotics for instance will often result in a yeast infection. Yeast is a bad bacteria that lives in our guts. Another good bacteria (L. acidophilus) fights yeast bacteria overgrowth. Antibiotics kill good bacteria so yeast gets to grow uninhibited and you end up with a yeast infection. (It's not the only way to get a yeast infection. I'm trying to be brief here.)

Danone didn't go out and create a brand new bacteria. L. casei has been around a long time. L. casei Defensis is simply Danone's special blend. I really don't understand how Danone's L. casei can be any more special than the L. casei I could easily replicate in my kitchen, but I'm not a biologist or chemist or whatever kind of scientist it takes to create "special" bacteria.

L. casei is a good bacteria. It does support healthy immune functioning and healthy digestive tract flora.It lives in our mouths, stomachs, intestines. A baby's saliva will contain L. Casei.

My verdict: This was incredibly sweet. It was palatable, but ridiculously sweet. My mouth is not accustomed to this kind of sweetness. I avoid products containing added sugar like the plague that sugar has become to Western society. Find your live, active bacterial cultures in natural yogurt that contains no added sugars.

Because of the extremely high sugar content of Danactive, it will never be a feature in my diet. 69% of the calories in Danactive are from sugar. (There are 14 grams sugar in a bottle of vanilla Danactive. There are 63 calories in 14 grams sugar. Danactive Vanilla contains 80 calories total. 13.5 of those calories are from fat. This is all packed into 3.3 OUNCES (93 grams) of yogurt beverage.) That's ridiculous. Would you pour 4 teaspoons sugar into 3 ounces of any beverage? I wouldn't.


And while Danone's "immunity" hype is actually true, you can get L. Casei from many other sources including cheddar cheese!