Seriously. What the hell does that look like to you? This is the recommended recipe I received in my mailbox today from Allrecipes.com . I have scooped giant piles that look just like that from my cat box (minus the sour cream and parsley on top...or is that cilantro...I bet it's cilantro.) Honestly. And after scooping such steaming piles from the cat box, I call the vet and say, "OMG you should see what came out of my cat! Is something seriously wrong with him, or what?" (Vet had me change fatty's diet and reduce his intake because what's pictured above is what comes out of overfed kitties.)

This recipe was for an enchilada casserole. I tell ya, I've made enchilada casseroles and they don't look like steaming piles of bloody pooh on our plates.

This is what my enchilada filling looks like: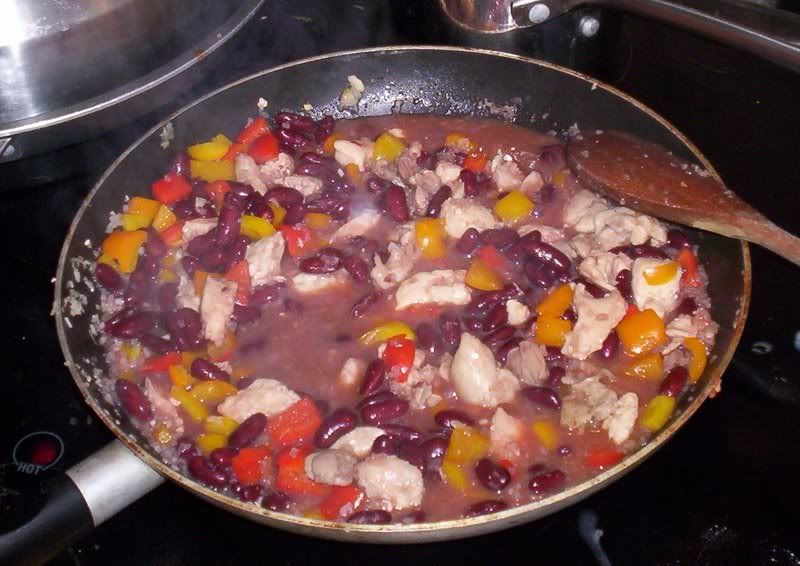 And the sauce...well the sauce doesn't look like so much heart-attack inducing slop as whatever is in that top photo (I'm thinking transfats....you?)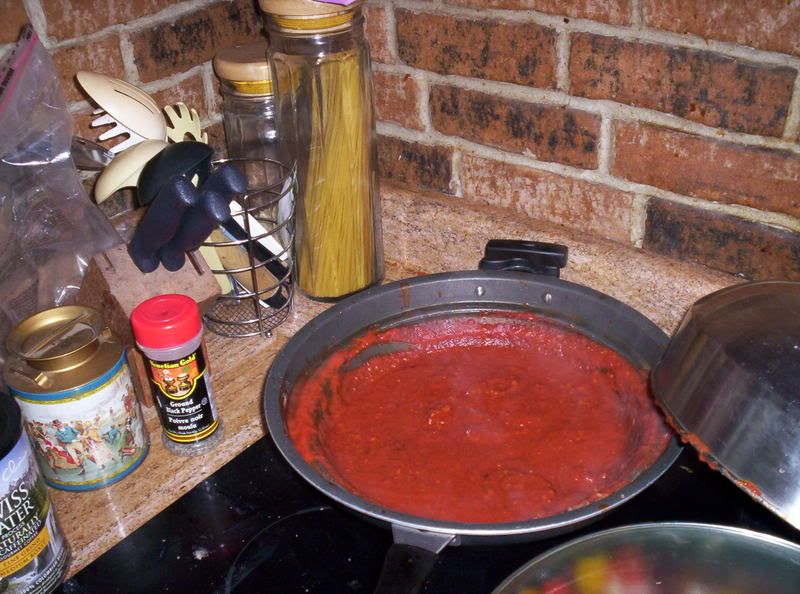 I'm betting you want a recipe now, don't you? Seeing as how I didn't write down anything, I'll TRY to get this right.

Rachel's Chicken Enchiladas (honestly, I ripped apart about 20 different recipes to pick and choose what I wanted in them.)

This made 2 9x13 dishes, by the way, but I was serving 8 that night & had nothing left over.

Filling

2 T olive or canola oil
meat of 2 whole chicken breasts chopped into bite sized pieces

1 can Red Kidney Beans (or 1.5 cups cooked red kidney beans)
2 small or 1 large bell pepper -- colours of your choice (I like it more colourful as you can see)
1 small onion
5 garlic cloves, minced
1 bunch cilantro
Small can chopped tomatoes
2 cups shredded co-jack cheese (marbled cheese in Canada)

medium sized tortillas

Sauce
Large can tomato sauce
small jar enchilada sauce
1/2 t cumin
1/2 t oregano

1 t Ground red pepper (we grind our own dried chili peppers for this...I'm sure cayenne or chili would work)
1/2 cup red cooking wine
1 T corn starch
Cook all sauce ingredients on low heat for 30-45 minutes. Sauce should be smooth and spicy. (I actually added red pepper to the "grown ups" pan -- the younger ones wouldn't be able to handle it.)
1. In large frying pan, pour oil and add chicken, onion, and garlic. Cook over medium heat until chicken is cooked through.
2. Add beans and peppers, can of chopped tomatoes, and as much of the cilantro (chopped) as you'd like. (We saved some for on top of the enchiladas and for our homemade salsa. The bunches are rather generous here.) Cook over low heat for as long as you like. I wanted the flavours to blend, so I left it on low heat until the sauce was the consistency I wanted it (thick).
3. Using a 9X13" baking dish, add some sauce to the bottom of the dish. Take one tortilla, dip it in sauce then fill the center of it with about 1T of cheese and 3T of filling. Fold the tortillas like you would a burrito. Place seam-side down in casserole dish. Do this for as many tortillas as you can fill with filling. Don't overstuff them and have filling oozing out all over.
4. Pour enchilada sauce over all the tortillas. Use all the sauce.
5. Cover with foil and bake for 20-30 minutes. You don't want the tortillas to become mushy. For the last 5 minutes of baking, remove foil and sprinkle with remaining cheese.
Serve with sour cream, if desired.
These were really very good, but a fair amount of work so they're an every-now-and-then recipe. I'll be honest and tell you that I'm pretty liberal with the spices and I'll add more when I feel I'm not getting the right blend. Use your own discretion.
Now I really wish I'd taken a picture of the enchildas after they came out of the oven, but I was so ready to dive into the suckers that they were gone before I snapped a picture. I can tell you this much: they looked NOTHING like that picture of slop at the very top of this post.
Enjoy!