More samplings from the
Worldwide Christmas Tree Contest 2009
.
If you're naughty en espana, glow-eyed cat will leave lumps of something-that-looks-like-coal-but-isn't under your tree: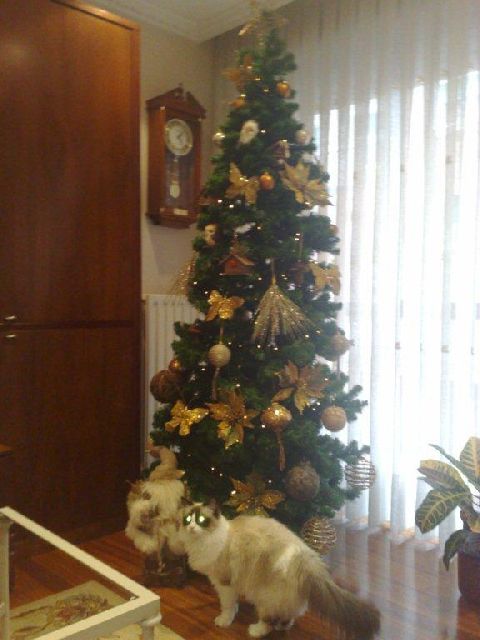 The tree is not bad. All of the rest of it adds up to years and years of therapy
for some unfortunate child/children...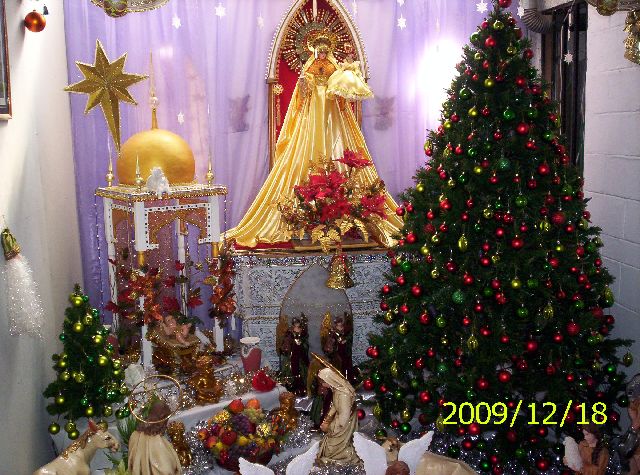 Is this even done yet? Nonetheless, a little too artsy-fartsy for me.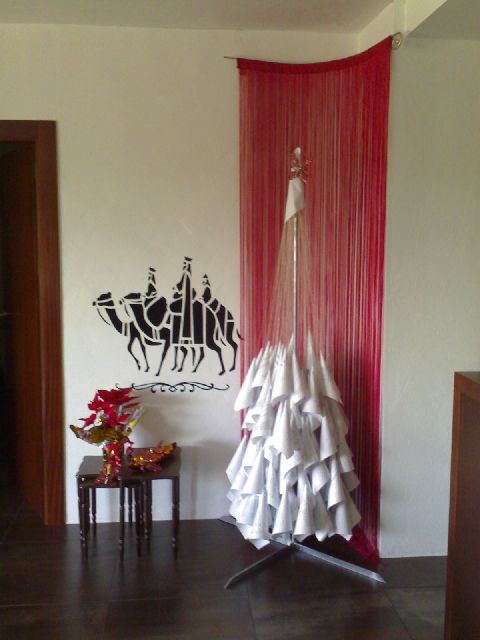 This tree is pretty unremarkable, but the picture kind of freaks me out. You're busted, Santa!
I knew you existed!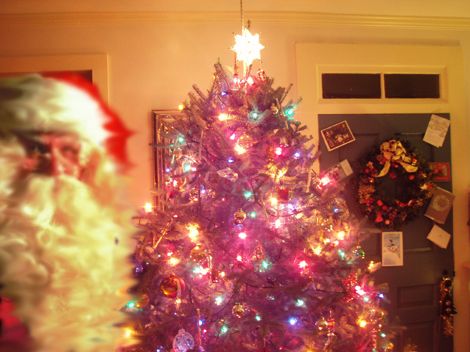 "Mommy, why is Santa's head coming out of the tree?"
Kind of looks like the tree shat a village, too...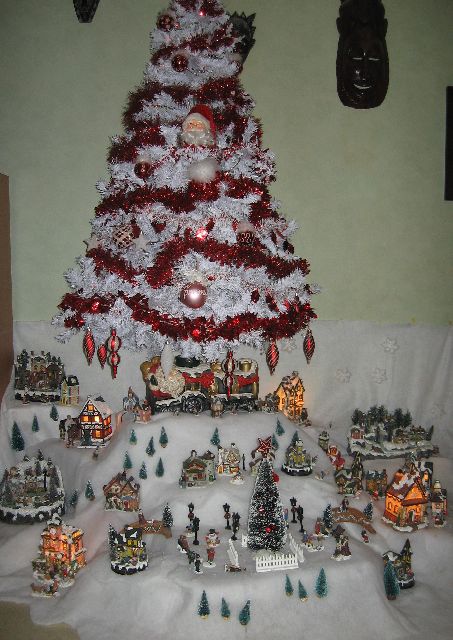 I've got Eric Clapton in my head. It's all white, it's all white, it's all white. . .
Damn! That's bright! Sun hats and pom poms? Only yellow lights? Like piddle on snow...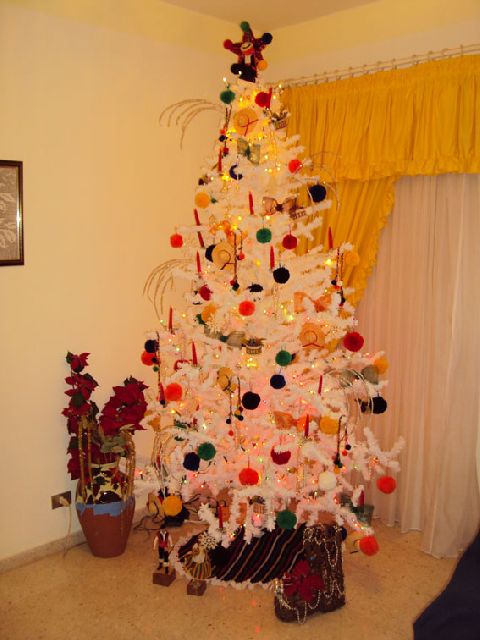 Random feathers and a teeny sunflower on top. What the hell?

Frig! More feathers. Again: what the hell??? Oh and look, it's a half-and-half tree: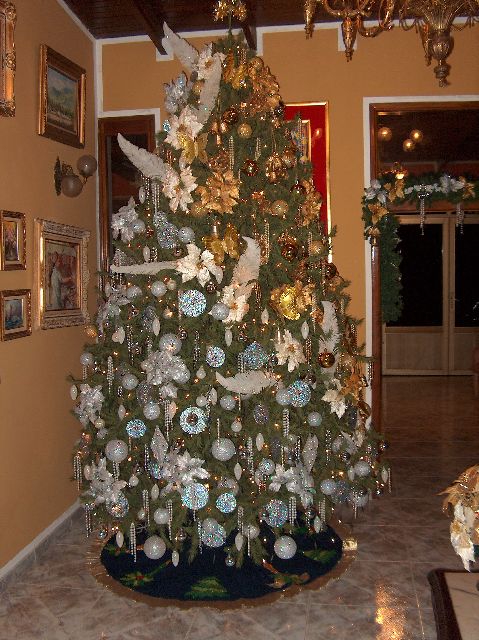 I'm not sure what you had to go through to create this, but yep, I like it. PS: nice pile of rocks, there. I see you're also raising boy children. One day I'll share all the rock piles I find in my house, too.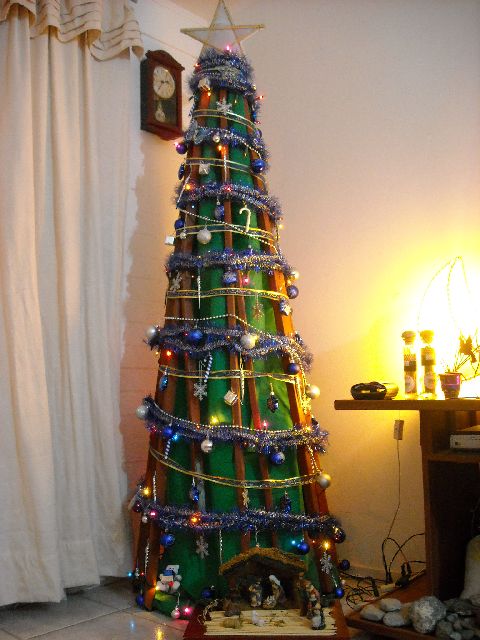 O. My. Gawd.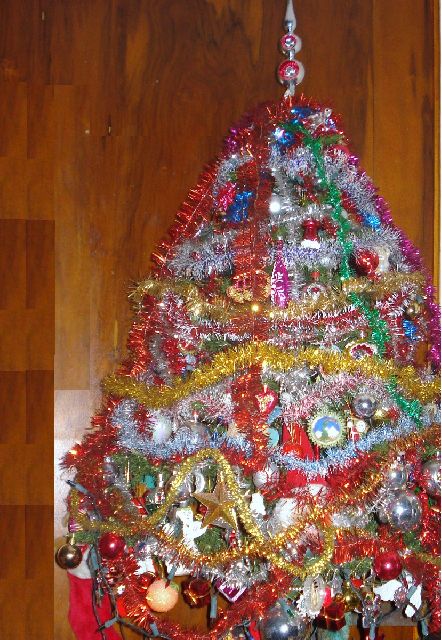 Let's stop for a minute and think about the implications of placing baby Jesus, the three wise men, Mary, and Joseph in the middle of Santa Land. And do you really need to hang Santa all over the place? I'm not sure if you're trying to say "Die Santa, Die!" or "Jesus Clause is the reason for the season." I'm so confused!
oooooooooh, aaaaaaaaaaah: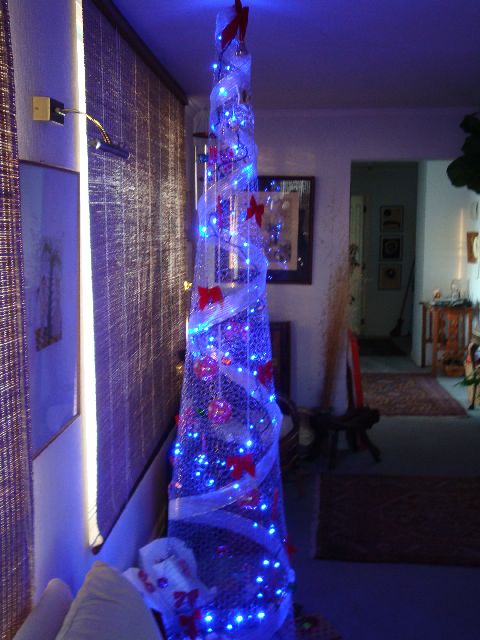 How obsessive-compulsive do you have to be to have a giant spill-mat under
a pristine non-shedding tree like this one: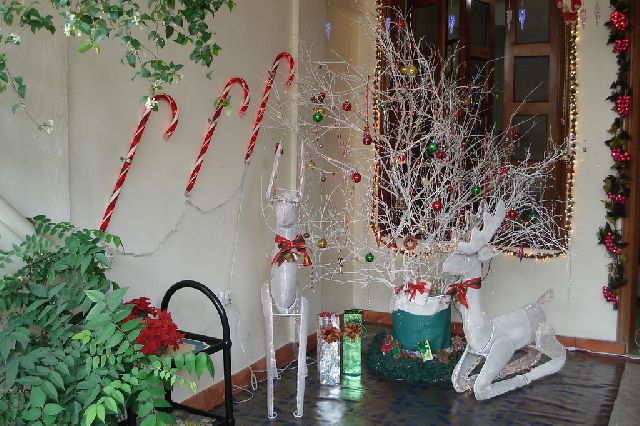 I could like this one. I really could. If only those two green balloons at the bottom didn't look like terribly asymmetrical boobies: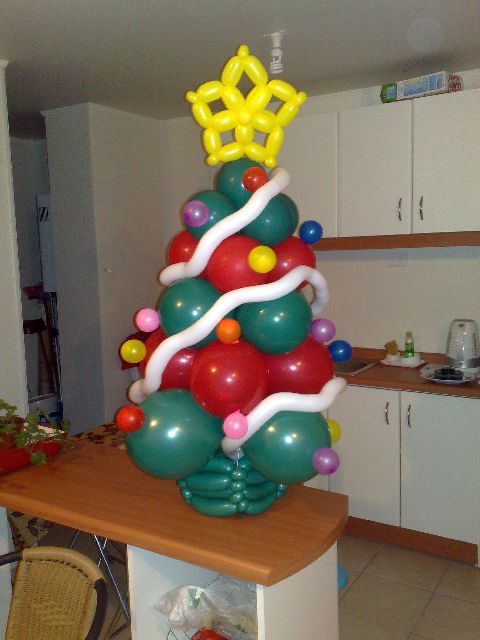 Where to start with this one? We've got the frou-frou explosive topping, the
fungus-coloured
decorations and is that skinny little tree in the background actually
bowing
to this eyesore? And that too-small tree skirt makes your tree's ass look fat: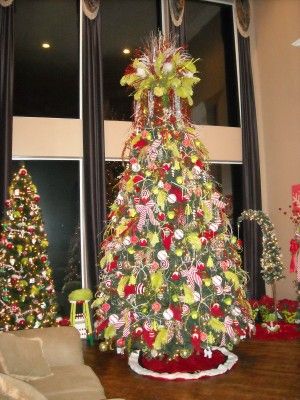 How can you not like this? Though, this might be cheating...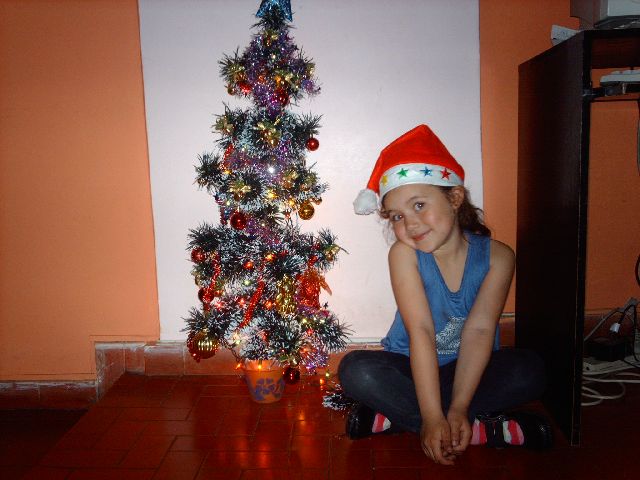 Yellow tree. Pez dispensers. Metalic green bows. I think I'm gonna hurl...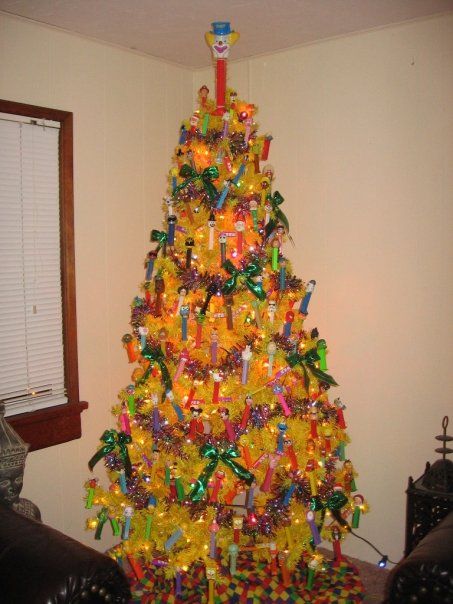 I like recycling. I particularly like that this family took all those useless AOL discs and made lovely family photo ornaments out of them: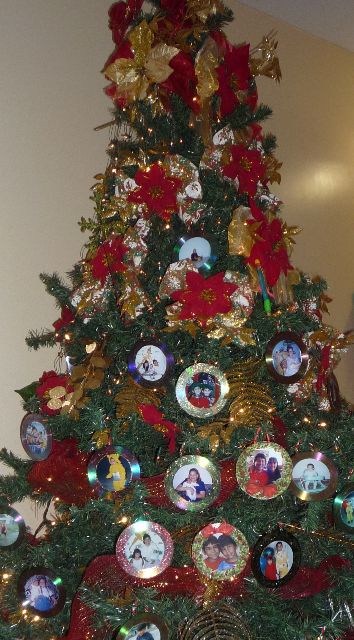 I suspect this is a festivus pole disguised as a Christmas tree: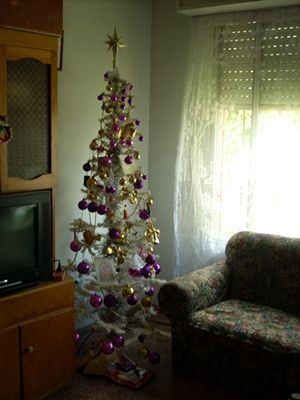 The most frilly, frou-frou, overdecorated, glitzy trees are from central American entrants. This Argentinian walks to the beat of his own drummer: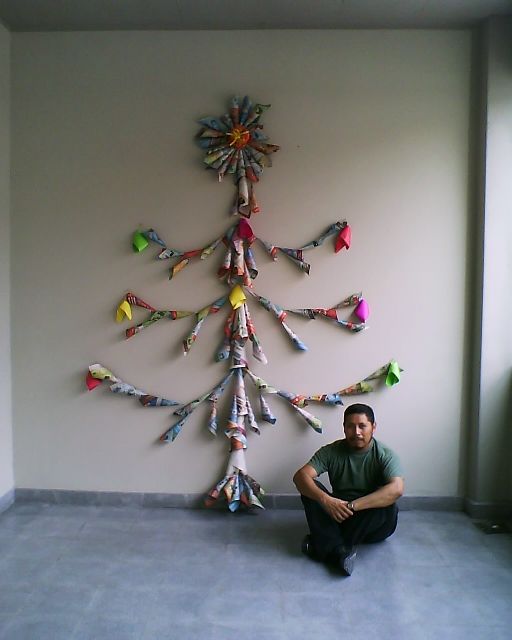 awwwww: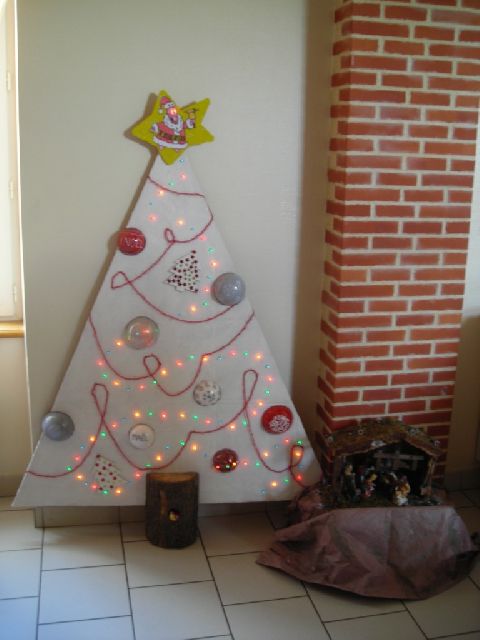 Just when we were firm in our belief that only American rednecks crafted beer can/bottle Christmas trees, this Brit comes along to prove us wrong.
It seems to be suspended mid air. How'd he do that?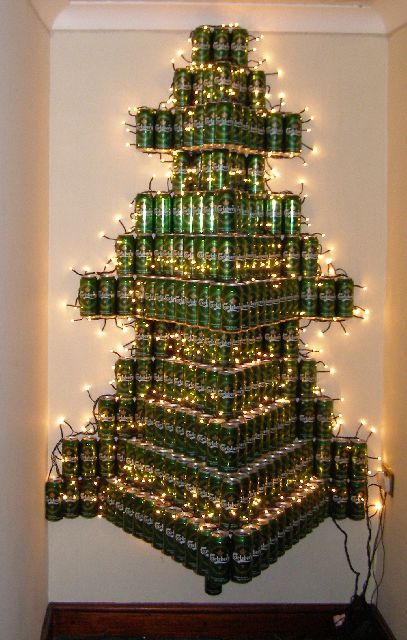 Leave it to a German to design a thoroughly unique, completely practical not-a-tree. After Christmas, burn the tree! I bet it smells fabulous! Love it!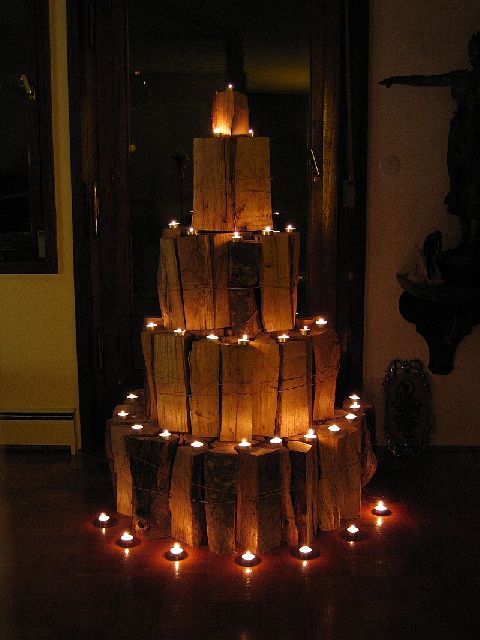 Hannakuh not-a-tree in the Christmas Tree contest. You rebel, you: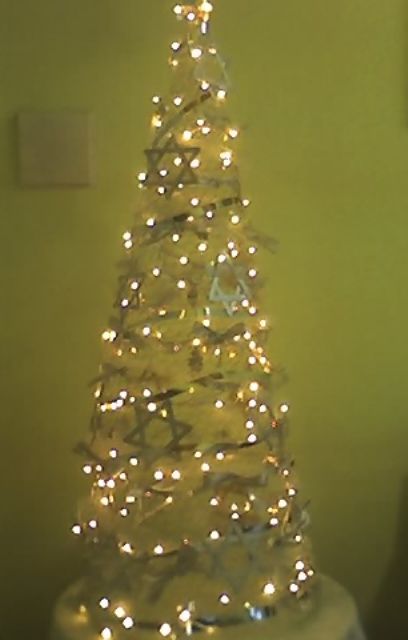 Someone got a pom-pom maker for Christmas last year. And, is the valance tied to the top of the tree? Hey, nice plastic on the couch! I have kids. I understand.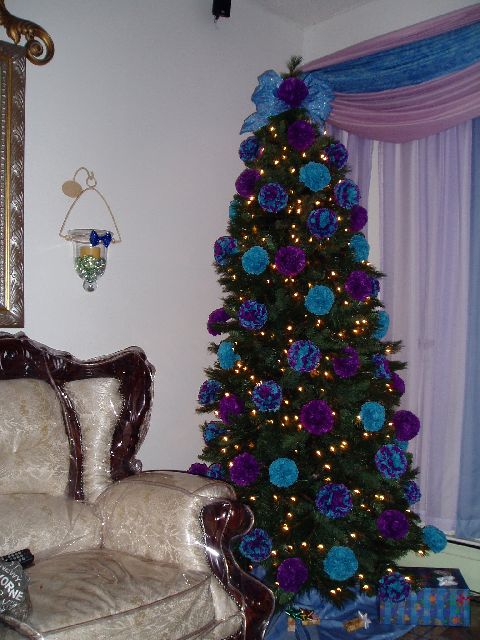 I would not have thought this was a Christmas tree, but it's entrant #445 in the World Wide Christmas tree contest. What
are
these?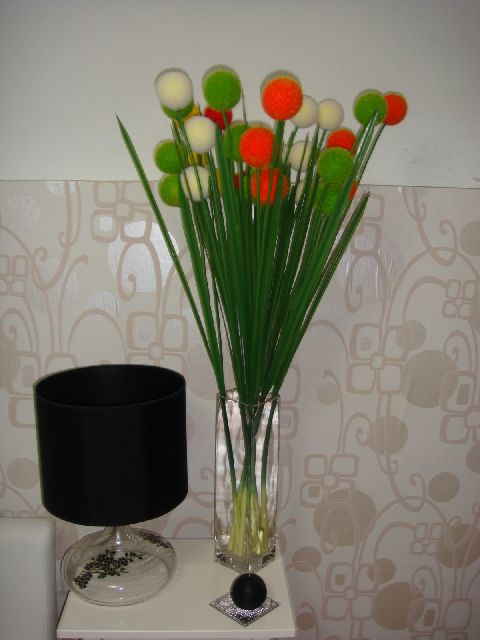 \
Same comment as above, but entrant #427: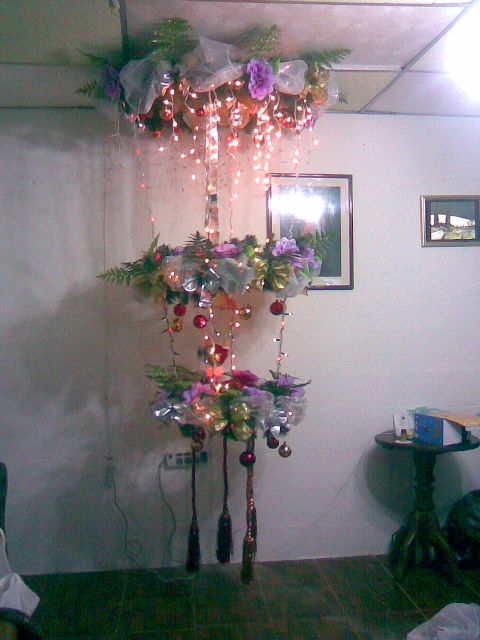 Kitty: "Go ahead. Get a picture of it now before I sink my claws into it. Mwhaahahahaha"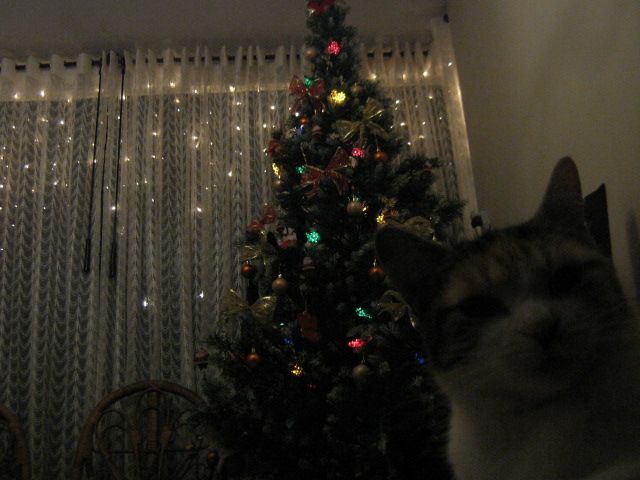 hmmmmmm...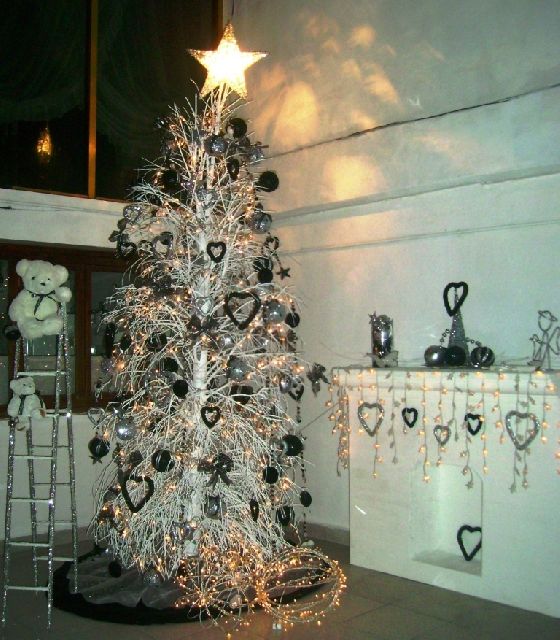 Mixing up your bible stories, folks: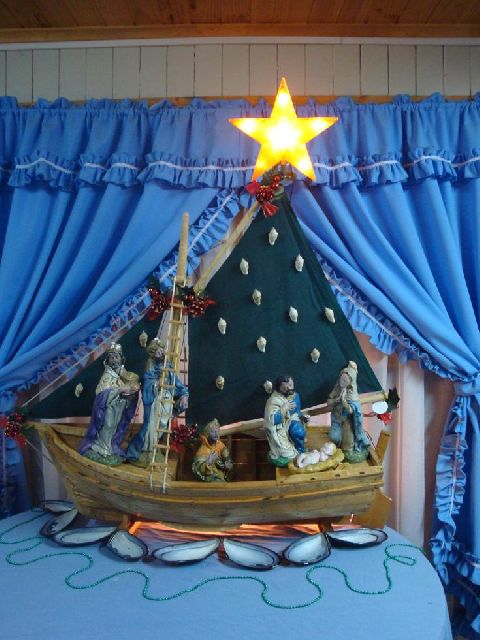 I could be fair and show you a picture of our Christmas tree. But I won't. You see, I foster cats and kittens. We currently have 5 in residence. A week ago, it was six. The bottom 2 feet of my tree no longer have ornaments. The lights are restrung daily. We did not hang garland this year. Some day, I'll have a Christmas tree without kittens, and then I'll share the tree with you. The first night the tree was up, the next morning we woke to find the youngest kitten in the upper most branches sound asleep. She still thinks it's her tree.
Want to have a laugh about cats and trees? Go read this:
A Cat's Christmas
Merry Christmas, everyone!